Golf Infographics (for PowerPoint and Google Slides)
Premium Google Slides theme and PowerPoint template
Looking to create an impressive presentation on golf? Look no further than this stunning template that works in Google Slides and PowerPoint with its illustrative slides and bright infographics created with a flat style. From balls, flags, and medals to percentages and areas for your text placed on golf fields and lakes backgrounds - this template is all-encompassing, making it the best package out there for handling the sports industry or golfing championships. Whether you need this template for training purposes, game strategies, or keeping track of game statistics - it has everything you'll need in one convenient place. Don't miss your chance to impress everyone with your presentation!
Golf is an ancient game with a long and illustrious history. It's believed to have originated in Scotland during the 15th century when shepherds used rudimentary clubs to hit stones across stretches of open land. Golfers have come a long way from using crude tools to shape their shots; today many golfers enjoy tremendous accuracy and precision thanks to advanced equipment designed for improved performance. Gone are the days of swiping at balls with branches of trees! This iconic sport has also grown steadily in popularity over the centuries, spanning continents as it touches millions of players around the world. Whether playing at a professional level or simply enjoying time on the course with friends, there's no doubt that this timeless sport of golf continues to be one of the most beloved sports today.
Golf is one of the most popular and iconic sports in the world. Although often seen as a simple game, there are some quite specific rules and regulations that players must understand and follow prior to teeing off at the first hole. A player's club may not be used during play to move any fixed object, such as leaves, pebbles, or weeds; only loose impediments can be removed. Golfers also must replace their divots, fill any holes they made while taking their stance, repair marks on the ground next to where their ball sat before it was struck, rake bunker edges, and be honest about calls regarding whether their ball entered hazards and the like. Other common etiquette expectations include taking off a hat out of respect for other golfers when putting on the green, fixing divots even if it means damage from your own ball, avoiding slow play by allowing others to 'play through' or finish out their stroke you gave them time to do so. Long story short, there are plenty of unwritten laws in golf - both formal and informal - so read up on them before hitting the course!
Template Features:
- 100% editable and easy to modify
- 2 dark and light slides to impress your audience
- Contains easy-to-edit graphics
- Designed to be used in Google Slides and Microsoft PowerPoint
- PPT/PPTX format file
- 16:9 widescreen format suitable for all types of screens
- Includes information about fonts, colors, and credits of the free resources used.
Download Free Samples.
Charts and Diagrams Features.
More...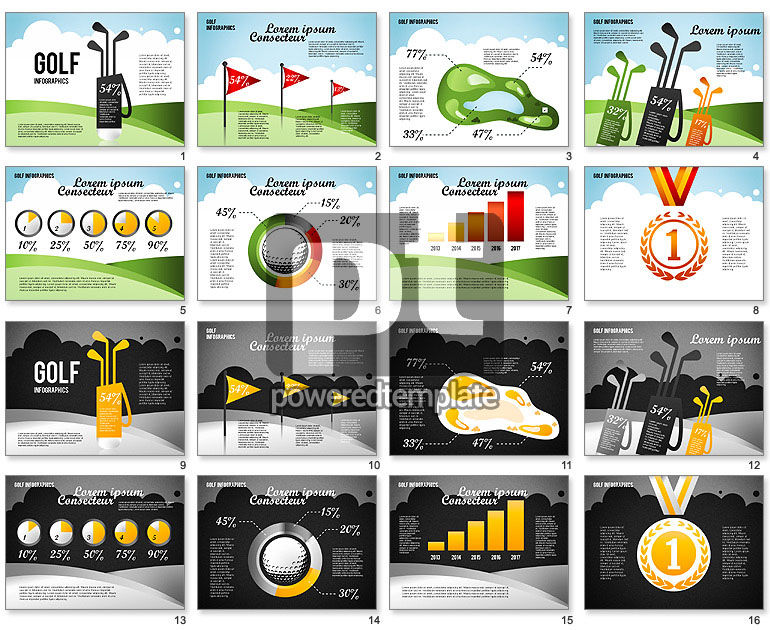 Related Items
Golf Infographics